RUSHCLIFFE BOROUGH COUNCIL NEWS – APRIL UPDATE
Town and Parish Update - Wednesday, April 7

Download
RUSHCLIFFE BOROUGH COUNCIL NEWS – MARCH UPDATE
Town and Parish Update - Wednesday, March 24 (1)

Download
RUSHCLIFFE BOROUGH COUNCIL NEWS – COVID LOCKDOWN UPDATE
Town and Parish Update - Wednesday, February 24

Download
CENSUS 2021
Everyone will benefit from Census 2021

Download
RUSHCLIFFE BOROUGH COUNCIL NEWS – COVID LOCKDOWN UPDATE
Town and Parish Update - Thursday January 28, 2021

Download
RBC posting

Download
RUSHCLIFFE BOROUGH COUNCIL NEWS – UPDATE
Town and Parish Update - Tuesday, December 22

Download
RUSHCLIFFE BOROUGH COUNCIL NEWS – COVID UPDATE
Town and Parish Update - Covid - Wednesday December 2

Download
PARISH COUNCIL VACANCY
Casual vacancy - Nov 2020

Download
Casual vacancy advert Nov 2020

Download
BOGUS POLICE ALERT
Bogus Police Officer Fraud Notice

Download
LOCAL COVID ALERT LEVELS
localcovidalertlevels

Download
NEW DOG BIN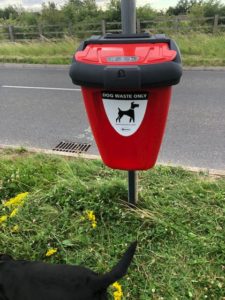 A new dog bin has been fixed at the end of the shale path walk to enable residents to dispose properly of their dogs droppings and to encourage owners to "pick up"
We do hope it will be used to limit the amount of dog fouling that has become evident recently
Bill Banner
Clerk
COMMUNITY SPORTS & WELLBEING DAY – NOW CANCELLED
2020 Woodland Trail Flyer

Download
2020 Sports & Wellbeing Day Flyer

Download
COMMEMORATION
Commemoration - July 2020

Download
CASUAL VACANCY – June 2020
Casual vacancy - June 2020

Download
DOMESTIC ABUSE
Domestic Abuse

Download
WELLINGTON AVENUE RESURFACING PLANS
20200109 Wellington Avenue Re-Surfacing Works Update

Download
MOBILE LIBRARY VISITS
20200109 Inspire Mobile Library 2020 Visits

Download
Wellington Avenue Resurfacing Plan
Base TM Drawings -Wellington Avenue-Drg 1.1 Location

Download
WELLINGTON AVENUE UPDATE
20191121 Newton Comms Update.docx

Download
REDROW HOMES PLANS – Parish Council Views
20190906 Planning Communication.docx

Download
REDROW HOMES PLANS DISPLAY
Redrow Homes Plans

Download
REDROW PLANS
20190813 Redrow Homes Planning Updateii

Download
site notice - 19-01871-VAR

Download
Bulletin – East Bridgford and Newton
Bulletin – Car Colston, Newton and Whatton Bulletin – East Bridgford and NewtonBulletin
Bulletin – Wellington Avenue, NewtonNewton Parish candidates

Download

Borough Election Candidates

Download


201903 One Newton Newsletter Issue 006 FINAL

Download

PDF Embedder requires a url attribute
Parish-Cluster sessions presentation
Glass Banks in Newton20190122 Glass Waste Recycling Announcement.docx

Download


For those residents not already aware, the Section 106 Agreement relating to proposed Phase II development on the former RAF Newton site was signed in September 2018. This is a legally binding Agreement, negotiated between the Developer and Local Planning Authority, outlining planning obligations (including local amenities) for Phase II of the development.
Most will also know that Phase II has been in the planning for a long time, hence it has been a standing topic for discussion at our Newton Parish Council meetings. For those parishioners unable to attend meetings and listen to proceedings, the Minutes are posted on the NPC website at www.newton-pc-notts.co.uk. An automated link to these Minutes will also soon appear here on our recently launched Facebook page, encouraging parishioners to be well-informed about the Council's activities, including what is happening and/or planned for our community.
Demolition of the former RAF buildings by the Developer's appointed Contractors is the next crucial step towards Phase II development, hence many will have noted that these works commenced early in November 2018. The Parish Council will have a better idea from the Developer on the duration of the demolition works at our next meeting on 5th February 2018 and we will then be in a position to provide a further update. At present, the Parish Council is reliably informed that works are ahead of schedule.
Please note that the former RAF Guardhouse (immediately on the right-hand side as you enter the current development through the white gates at the top of Wellington Avenue) is thought to be not included in the current demolition programme as it is potentially earmarked for major refurbishment as Newton's future Community Hall. This is subject to appropriate planning consent, budget and other approvals to ensure the building is viable and Newton's best option for such a purpose.
<